The 1988 Qumar Election lead to the election of the third Prime Minister of Qumar, Conservative Quraen Sheraz through a coalition government with the nationals after a hung parliament result. Precceded by the 1984 Qumar Election. Succeded by the 1992 Qumar Election . 
1988 Qumar Parliament Election

Election Results

Majority Party
Hung Parliament
Labor Party Seats
176 (44.0%)
Conservative Party Seats
184 (46.0%)
National Party Seats
36 (9.00%)

Party Leaders

Labor Leader
William Monroe
Conservative Leader
Quraen Sheraz
National Leader
Angelai Ferri

Coalitions

Formed Coalitions
Conservative - National Coalition
1988 Election Results
Edit
The 1988 Parliament Election of Qumar resulted in a second Hung Parliament. The nationals had switched sides during the election from being closer to Labor to closer to the conservatives who the regularly agreed more with anyways. The Labor party lost about 12 seats in the election while the conservatives picked up about the same. The Nationals and the conservatives then formed a coalition government electing Quraen Sheraz the Prime Minister of Qumar .
Leadership elections where normal in both the Labor party and the National party as incumbents William Monroe and Angelai Ferri where re-elected leaders of their parties. In the conservative party, with the older leader retiring, Quraen Sheraz , a MP from the Nothern area, took control of the opportunity and was able to win 113 votes inside the leadership election on September 3rd, taking control of his party. The conservatives them campaigned vigarously against the labor party under their new leader and were able to pull off a victory in the elections.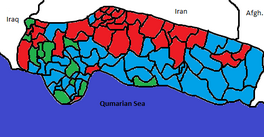 Hung Parliament - Conservative/National Coalition
Edit
When the Parliament was declared hung, the conservatives immediately went to work on recruiting the nationals. Angelai decided that, because the parties agreed more often than she did with the labors, it was a good idea, so she pushed the party to jump ship, and with 44 votes to 16, they did. The national party voted to elect Quraen Sheraz as Prime Minister of Qumar and Angelai Ferri was appointed Deputy Prime Minister for her second term in office.